I am not a worshiper of celebrities. I don't aspire to carry their designer bags or have a shoe closet with the soles of my Louboutin's on display. I think stacked Hermes bracelets or Cartier Love bracelets are for the birds and do NOT get me started on all of the tacky Gucci out there these days. But, I do have a few style and beauty icons - Ali MacGraw, Audrey Tatou, Lisa Bonet and Zoe Kravitz, Gloria Steinem, Sienna Miller, Cher, Daria Werbowy, Michelle Williams, Kate Lanphear, Solange - to name a few. Recently, I've realized they're my favorites because their style exudes a feeling or an emotion free of fashion labels or trends.
Who doesn't want Cher's glossy, black hair and nude, shiny lips? Or Ali MacGraw's sunk-kissed complexion and turquoise jewelry? Gloria Steinhem's genetics (her IQ!) and taste in glasses, Kate Lanphear and Michelle Williams' ability to choose the perfect shade of white blonde and pixie cut? Lisa Bonet and Zoe Kravitz's bohemian wardrobe, beautiful skin and bone structure? I could go on and on and on.
Allow me to clear the air; I am a Sienna apologist: homewrecker, enabler, drug user.... I have unconditional love and endless forgiveness for this woman. After the Oscars, I was entranced by Sienna Miller's makeup and went on an in-depth search for the linchpin of the look: the lipstick.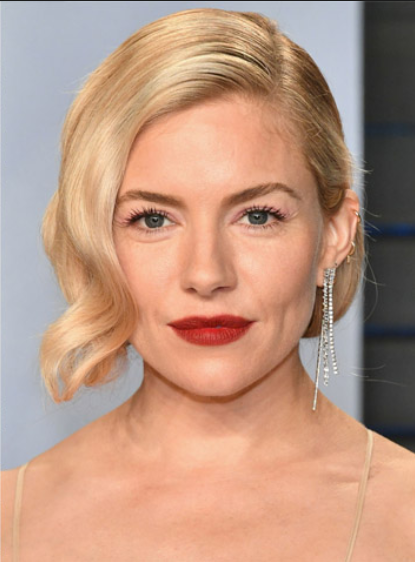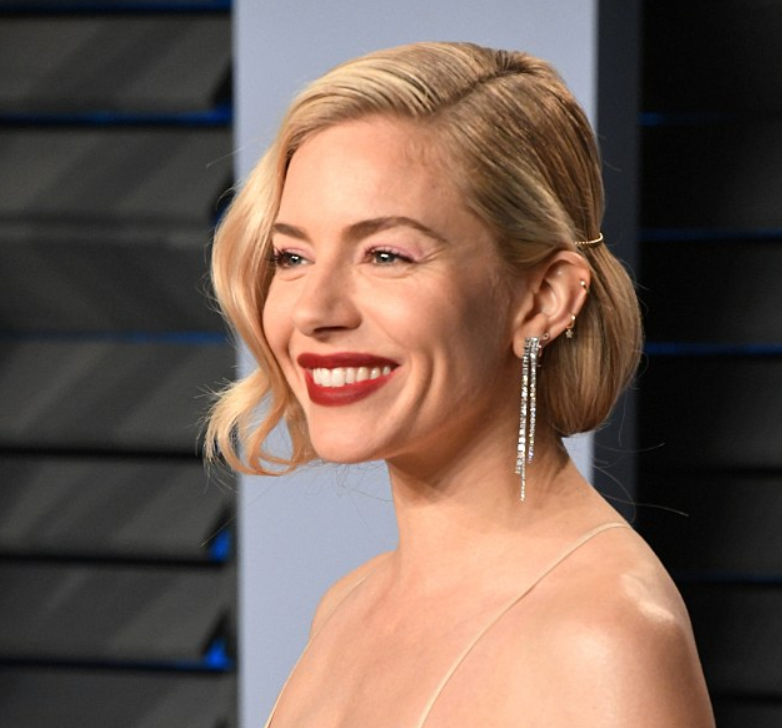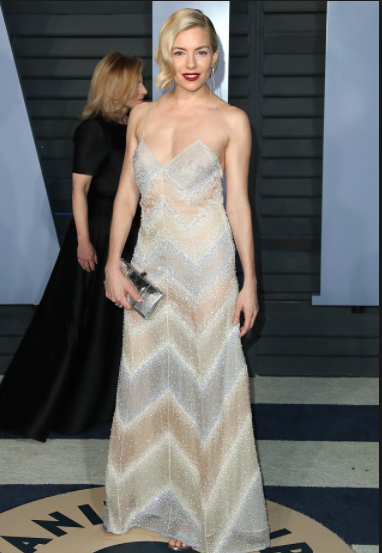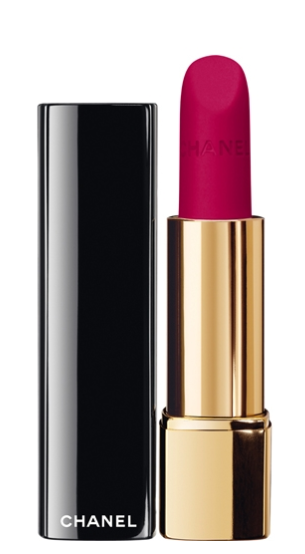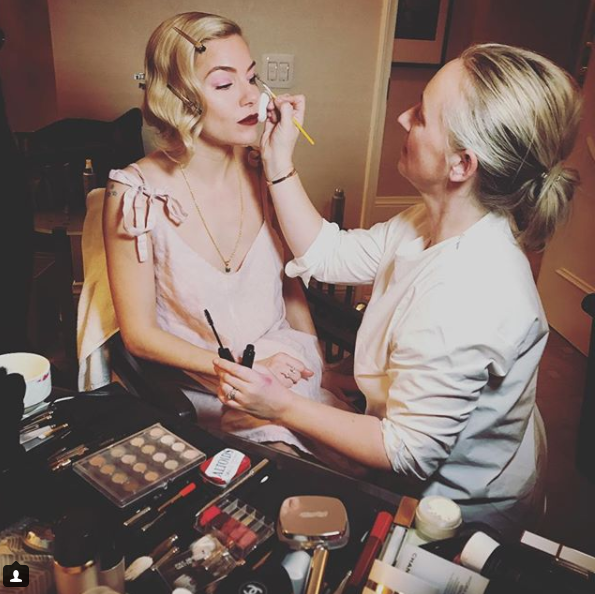 As a Brit, I assumed Sienna's makeup was done one of a small group of British Makeup artists - my search narrowed to Lisa Eldridge, Wendy Rowe and Charlotte Tilbury. Turns out, it was the venerable Kate Lee (a Brit, no less) who created this perfect naked skin, pink shimmery eye and brown/red lip using mostly Chanel products. But, as you can see, pictures can be deceiving and when I was able to find the makeup credits I learned the lip was actually a berry/brown color, which can be seen more accurately in the very top picture of Sienna. The look is so very easy to achieve having now recreated it twice. Read on for products (suggested) and steps!
Step 1 - Prep your skin as you normally would and pay attention to the skin around the eyes. This look, although not heavy on eyeshadow, draws attention to the eye because of the simplicity. Dehydrated skin creases and will look tired.
Step 2 - Apply primer. If you're oily, choose one that will keep skin matte. If you're dry, pick one to hydrate but do not choose anything with shimmer or glow. Sienna's skin has no highlighter whatsoever.
Step 3 - Apply foundation. Begin with a dime size dot and blend from the center outward. Kate Lee used Chanel Vitalumiere Aqua (1) on Sienna and applied with a brush. If you have severely oily skin, Hourglass Veil Fluid Makeup Oil Free Broad Spectrum SPF 15 (2) works miracles. In the end, use whatever foundation and tools keep your skin looking translucent and natural. Conceal where needed. Powder in areas prone to oil (t-zone, usually).
Step 4- Little or no color on the cheeks can rob the face of structure. Let's face it, we don't have Sienna's bone structure. To put shape in, use a contour powder. It is lighter and easier to blend than a cream contour. I like Kevin Aucoin The Sculpting Contour Powder Light (3) because it is very subtle and very cool in tone, which is the best way to mimic a shadow. I also would be remiss if I didn't mention the Charlotte Tilbury Powder and Sculpt Brush. It is the perfect shape to apply contour with the perfect bristle density to ensure product doesn't cake onto the skin.
Step 5 - Prime lids if they are oily. If not skip and apply a sheer wash of shimmery, pink eyeshadow with a fluffy brush. A few shades to consider:
Anastasia Beverly Hills Eye Shadow Singles in Baby Cakes (4), L'Oréal Colour Riche Monos Eyeshadow Mademoiselle Pink (5) or in Light Beige Dress (6), Chanel OMBRE PREMIÈRE in 12 Rose Synthetique (7). If you've used a shimmer texture, grab a little on your ring finger and dot into the inner corners of your eyes.
Step 6 - If needed, fill in brows with a pencil or powder. Please, no Instagram, over-filled, block brows. Small, feathery strokes work. Accenting your natural arch works. Seal in pencil with a brow gel like Glossier Boy Brow (8).
Step 7 - Apply brown eyeliner but VERY CAREFULLY. You shouldn't be able to see it when you're done. Take the pencil (if it's freshly sharpened, dull down the tip), and gently work it into the upper lash line and top waterline. The finished effect is a thicker, darker lash line only.
Step 8 - Curl Lashes and apply a mascara that separates and volumizes (I would vote for my current favorite, Lancôme Monsieur Big Mascara in 01 Black).
Step 9 - Apply Chanel Rouge Allure Velvet Luminous Matte Lip Color 40 La Sensuelle (9) with a lip brush working the color back and forth into lips to create a base layer that stains lips (this is the Lisa Eldridge method). Blot with a thin tissue and work another layer in. Blot again and then apply a last layer straight from the bullet. In order to get the desired look, lips must not be chapped or flaky. I exfoliate and apply lip balm during Step one and wipe off the balm when I am ready to apply lipstick. After lipstick application is complete, step back and look in the mirror. If your skin looks drained of color, take a very sheer bronzer and sweep in a C motion on temples and apples of cheeks (I used Tom Ford Bronzing Powder in Gold Dust - don't be afraid of the shimmer. It is indetectable and helps avoid a flat bronze look)
Optional Step 10 - Apply a setting spray. This NYX one has a great story and stellar reputation.
PRODUCTS MENTIONED: